What you get from LinkedIn Blueprint...
You will learn the exact steps to get a top-ranked LinkedIn profile and how to get more contacts, clients and job opportunities from LinkedIn.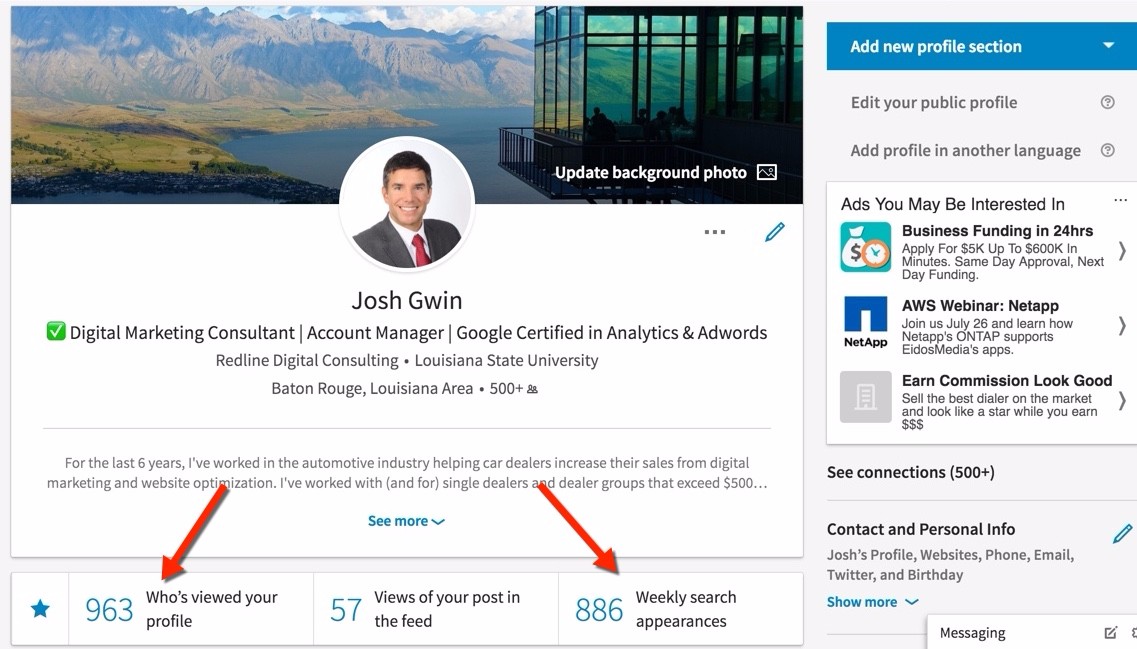 Why this course works and saves you time...
LinkedIn changed my business.

I joined LinkedIn in 2008.
From 2008-2013 my LinkedIn profile was crap. Literally. I got no business and almost no connections.
At that time I worked as Marketing Director for a large automotive group.
I wanted to use LinkedIn to connect with the "VIP's" in my industry.

So I started learning everything I could about LinkedIn.

I bought every course and read every article I could find.
Since then I've gone from under 500 connections to 6,266 (as of 7/10/17). My LinkedIn profile consistently ranks in the top 2-3% of my connections.

I get new business and leads from LinkedIn almost every day.

In this course, I'll show you my exact system I use to do this.


Why this course is great for business people...

In this course, I show my step-by-step system to grow your LinkedIn profile and get more business. I show you exactly how to stay in front of your connections in a few minutes a week.

I designed this course to save you a ton of time and money by showing you exactly what to do.
This course is (unofficially) the best course on LinkedIn in my opinion :)

Disclaimer: This course does take some work. You'll get the best results if you do the steps I outline in the course. If you do, this is the best system I know for creating an amazing LinkedIn profile that gets you more leads and a huge professional network.


Here are some of the topics I cover in the course:
The top 5 updates to supercharge your LinkedIn profile
What's working for getting business in 2017 (regularly updated lecture)
How to write your headline, summary, and previous job descriptions to get more contacts and grow your network.
How to get more views on your LinkedIn profile using some simple but little-known tips.
The way to make sure your LinkedIn privacy settings are not keeping you from being found.
How to add sections to your profile that get you business (that most people don't know about)
Where to add your contact info to get more business.
How to add keywords to have your profile show up in the top of LinkedIn (and Google).
How to post on LinkedIn AND what to post to get more business leads.
How to set your LinkedIn posts to automatic (this saves you a ton of time).
Using blogging on LinkedIn to get business.
How to easily get more endorsements and recommendations on your profile.
How to add hundreds of LinkedIn connections with a few clicks.
How to find and connect with key people at ANY company (managers, VPs, and CEOs)
A way to message your new contacts without being sleazy.
Advanced strategies to get you more business.
Advanced job search strategies using LinkedIn (coming soon!)
Limited Time Bonus 1: My complete LinkedIn profile template for you to copy and paste. It's literally a done for your LinkedIn profile (not available anywhere else).
Limited Time Bonus 2: My bonus training on how to easily create a gorgeous personal branding website from your LinkedIn profile. Drag and drop easy and free.


How you can get an amazing LinkedIn profile today...

Click the enroll button below to get started.
P.S. As I add more lectures and bonuses, the course price goes u. However, you get all future updates included at no extra cost. Hope to see you in the course.

Here's some proof that this works from my own LinkedIn profile:


---
Ready to get started?
Click on the enroll button below and let's get started!
See you on the inside :)
Josh